Acupuncture Clinic in Montvale and Closter, NJ
If you are dealing with a variety of health issues and want to treat them successfully without negative impacts then acupuncture may be a suitable option. Our board-certified professional health care offers acupuncture services to their patients in a comfortable environment at The Spine & Health Center of New Jersey. Acupuncture is a technique that includes inserting extremely fine needles into your skin at critical spots on your body. Acupuncture is a vital component of traditional Chinese medicine, and is most typically used to relieve pain. It is becoming more popular for overall well-being, including stress reduction. To learn more about acupuncture treatment,

contact us

or

schedule an appointment

online. We have

convenient locations

to serve you in Montvale and Closter, NJ.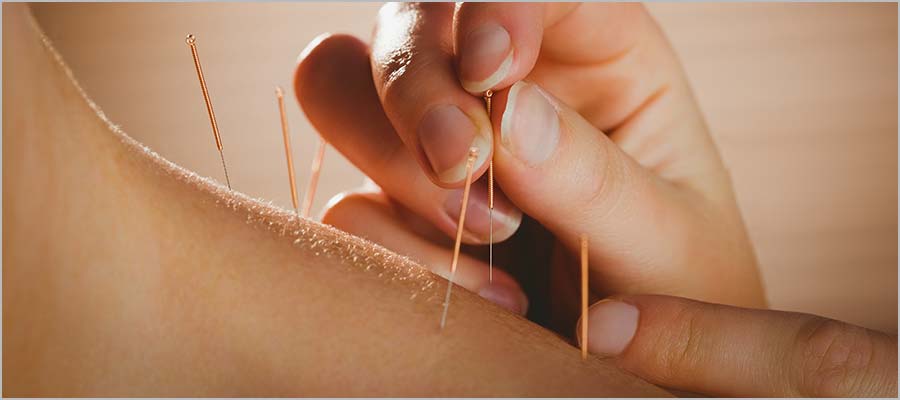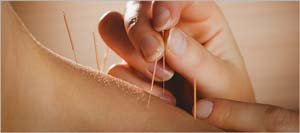 Table of Contents:
What is an acupuncture treatment?
How does acupuncture work?
How often should you get acupuncture?
What conditions does acupuncture treat?
What is an acupuncture treatment?

Acupuncture is an ancient form of Chinese medicine that involves inserting tiny needles into specific body points to promote the body's natural healing processes. Since ancient times, acupuncture has been used to treat a variety of conditions, such as pain, stress, anxiety, and digestive issues.
 
The acupuncturist will first evaluate your general health and inquire about your symptoms and medical background before beginning treatment. After that, they will examine your body, paying close attention to any areas of pain or discomfort.
 
Thin, sterile needles will be inserted into precise points on your body by the acupuncturist. As the needles are inserted, you might experience a slight prick or tingling sensation, but this minimal discomfort won't last. The acupuncturist may gently manipulate the needles after they are applied to further encourage the body's healing mechanisms. You will need to relax with the needles in place for about 20 to 40 minutes.
 
Patients often describe experiencing a sense of relaxation or renewed energy following an acupuncture treatment. To help your body fully recover, it's important to consume plenty of water and refrain from engaging in any strenuous activity for the remainder of the day.
How does acupuncture work?

With the help of tiny needles, acupuncture stimulates specific body points, known as acupoints. The body's natural healing processes are triggered by needles when they are inserted into the skin and underlying tissues.
 
According to traditional Chinese medicine, acupuncture corrects the body's energy flow, which is known as Qi. It is believed that disruptions in the flow of Qi can result in illness and disease and that acupuncture can restore balance in the body and promote healing.
 
In western medicine, acupuncture is known to stimulate the nervous system. Acupuncture activates nerve fibers that send signals to the brain. This triggers the release of natural painkillers, such as endorphins, and other chemicals and results in reduced inflammation and faster healing.
How often should you get acupuncture?

The specific condition, the intensity of symptoms, and general health goals will all affect how frequently you should receive acupuncture treatment. Effective acupuncture treatment involves multiple sessions spread over a few weeks or months.
 
For acute conditions, such as sports injuries, treatments are typically recommended on a weekly or bi-weekly basis. The frequency of treatments often decreases as the illness or injury becomes better.
 
With chronic conditions, treatment is often less regular, on a monthly or bi-monthly basis. However, it is a must to get consistent treatment for chronic conditions to effectively manage symptoms. The frequency of treatments will be determined by the acupuncturist, who will take into account your symptoms, medical history and health goals.
 
Acupuncture works best when done regularly. Each treatment builds on the benefits provided by the ones before it. For this reason, even if you feel better after just one or two sessions, it is advised to commit to a course of treatments to unlock the best benefits.
What conditions does acupuncture treat?

Many medical conditions can be treated with acupuncture.

The most common are:
 
Pain: Back pain, neck pain, knee pain, and headaches are just a few of the conditions that acupuncture is often used to treat.

Sports injuries: Sports injuries such as sprains, strains, and tendonitis can be treated with acupuncture. The treatment improves recovery and lessens discomfort and inflammation.

Respiratory system conditions: By lowering inflammation and enhancing lung function, acupuncture can be a very effective treatment for respiratory system conditions such as allergies and asthma.

Depression and anxiety: By encouraging relaxation and lowering tension, acupuncture can be a successful therapy for both depression and anxiety.

Chronic fatigue syndrome: Acupuncture can alleviate symptoms of chronic fatigue syndrome, including low energy levels, pain, and sleep disturbances.

Irritable bowel syndrome (IBS): Symptoms such as heartburn, stomach cramps, and nausea can be treated with acupuncture. The treatment can also be used to improve digestion.

Insomnia: Acupuncture is used to enhance sleep quality and treat insomnia. This is due to its relaxing and tension-releasing qualities.

Women's health concerns: Menstrual abnormalities and menopausal symptoms can be relieved with acupuncture treatment.
 
Acupuncture therapy is available at The Spine & Health Center for chronic pain and disorders. Our compassionate team would help you to address your painful symptoms as well as the underlying cause of your suffering with the provision of effective acupuncture treatments. For more information, contact us or schedule an appointment online. We have convenient locations to serve you in Montvale and Closter, NJ. We serve patients from Montvale, NJ, Closter, NJ, Alpine NJ, Englewood NJ, Hackensack NJ, Dumont NJ, Westwood NJ, Hillsdale NJ, Woodcliff Lake NJ, and surrounding areas.