Hip Pain Treatment in Montvale and Closter, NJ
Hip pain is a frequent type of joint discomfort that can be caused by a variety of illnesses. It is not usually felt in the hip, but it can also be felt in the groin or thigh. Your discomfort might be mild or severe, sudden or gradual. Our team of healthcare professionals provides highly effective treatments for hip problems and illnesses affecting the hip joint. If you feel hip pain when sitting and walking then consider The Spine and Health Centre. For more information, contact us or request an appointment online. We have convenient locations to serve you in Montvale NJ and Closter NJ.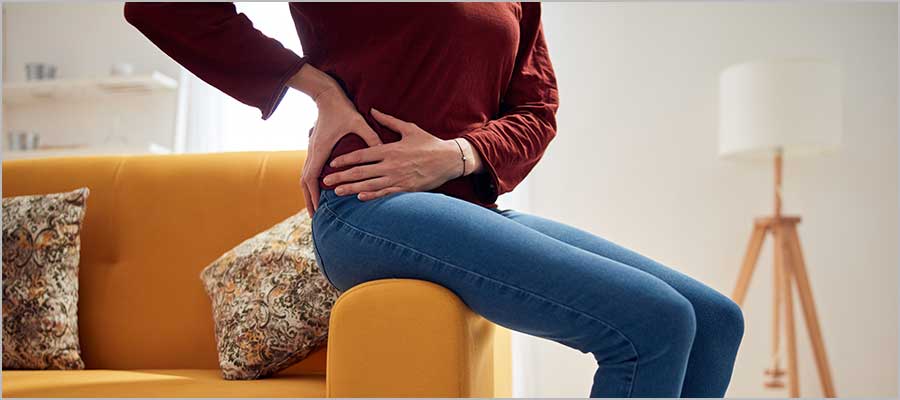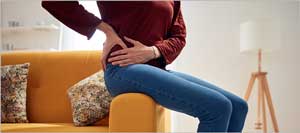 Table of Contents:
What is the most common reason for hip pain?
When should I see a doctor about hip pain?
How is hip pain treated?
What is the fastest way to relieve hip pain?
Hip pain is a common problem that occurs in people of all ages for various reasons, such as age-related bone and joint degeneration, sports injuries, or accidents. While mild hip pain that is caused by minor injuries or overuse can typically be treated with self-care measures such as rest, ice, and over-the-counter pain relievers, other more severe hip pain may require medical intervention to successfully manage and treat.
If you're struggling with hip pain, the professional team at The Spine and Health Center can help you diagnose and treat it. For more information about our hip pain treatment options, contact us today or book in online to schedule an appointment at your earliest convenience.
What is the most common reason for hip pain?

Hip pain can be caused by a wide gamut of injuries and conditions; however, the most common reason for hip pain is osteoarthritis.

Osteoarthritis is medical condition caused by the wear and tear of the cartilage in your joints. The hip joint is one of the largest and most weight-bearing joints in the body, which makes it highly susceptible to osteoarthritis. As the cartilage in the hip joint gradually wears away over time, it causes the bones to rub against each other; the result of which is pain, stiffness, and loss of mobility.

Aside from osteoarthritis, there are several other reasons why a person may develop hip pain. This includes injuries like fractures, bursitis, tendonitis, sciatica, and hip labral tears. In addition to this, hip pain may also be caused by conditions like rheumatoid arthritis, osteoporosis, and synovial disorders.
When should I see a doctor about hip pain?

It can be hard to know when it's time to see a doctor about your hip pain. Below, we've listed some warning signs that indicate when you should approach a doctor about your hip issues:

Persistent or worsening pain: If your hip pain has been going on for more than a few weeks, or it is getting worse over time, it may be indicative that there's an underlying issue requiring medical attention.

Limited range of motion: If your hip pain is affecting your ability to perform everyday activities like walking, running, or sitting down, it's important to see a doctor.

Swelling or tenderness: If your hip is swollen, warm to the touch, red, or tender, it's a sign that there may be inflammation or infection present.

Pain that wakes you up at night: Pain that is severe enough to wake you is a significant warning sign that you should seek proper medical care. 

Feeling unwell: If you have hip pain and experience fever, fatigue, or weight loss, it may be a sign of a more serious underlying condition.

As a general rule of thumb, if you're experiencing pain around the hip region that is interfering with your quality of life, it's important to seek a proper diagnosis from a doctor.
How is hip pain treated?

How your hip pain is treated will depend on the underlying cause and severity of your condition. Patients should work with their healthcare provider to develop a comprehensive treatment plan that best suits their unique needs.

Treatment options to manage and heal hip pain effectively may include:

Physical therapy: A licensed physical therapist can help develop an exercise program that strengthens the muscles around the hip joint and improves flexibility. In some cases, physical therapy may be enough to alleviate pain and prevent further damage.

Pain management: If physical therapy doesn't resolve the issue, pain management may be necessary. Over-the-counter pain relievers, such as acetaminophen and nonsteroidal anti-inflammatory drugs (NSAIDs), can help manage mild to moderate hip pain. Stronger pain medications may also be prescribed if deemed necessary by your doctor. 

Cortisone injections: If your pain is severe and doesn't respond to other treatments, cortisone injections may be recommended to you. Cortisone is a potent anti-inflammatory medication that is often effective in reducing pain and inflammation in the hip joint.

Surgery: This type of medical intervention may be necessary where conservative treatments aren't proving effective. Surgery may involve repairing damaged tissues or replacing the hip joint entirely.

There are also some things you can do at home to help alleviate your hip pain. Applying heat or ice packs to the affected area can help reduce inflammation and provide relief. Adjusting your sleeping position to alleviate pressure on the affected hip may also help.
What is the fastest way to relieve hip pain?

There are numerous ways to relieve hip pain, including rest, ice or heat therapy, over-the-counter painkillers, physical therapy, cortisone injections, and chiropractic care. However, the fastest way to relieve hip pain will vary from person-to-person and may involve a combination of these methods.

Ultimately, the best solution will depend on the severity of your pain and the underlying cause of your condition. Some hip pain will not resolve without medical care and may require surgical intervention to repair, so it's important to consult with a healthcare provider to determine the best course of action for you.

If you need help diagnosing, managing, and treating your hip pain, contact us at The Spine and Health Center, or schedule an appointment online. Our team would be happy to help you get relief from appropriate treatments. We have convenient locations to serve you in Montvale NJ and Closter NJ. We serve patients from Montvale NJ, Closter NJ, Westwood NJ, Hillsdale NJ, Woodcliff Lake NJ, Alpine NJ, Englewood NJ, Hackensack NJ, Dumont NJ, and surrounding areas.