Cupping Therapy in Montvale and Closter, NJ
Cupping treatment is an old kind of alternative medicine in which a practitioner applies suction to your skin using specific cups for a couple of minutes. Individuals receive it for various reasons, including pain relief, inflammation relief, increased blood flow, relaxation and well-being, and as a sort of deep-tissue therapy. At The Spine & Health Center, Our board-certified professionals can help you relax muscles, relieve trigger points, enhance lymphatic flow, boost local circulation, and dissolve scar tissue adhesion by offering effective cupping therapy. For more information,

contact us

or

schedule an appointment

online. We have

convenient locations

to serve you in Montvale and Closter, NJ.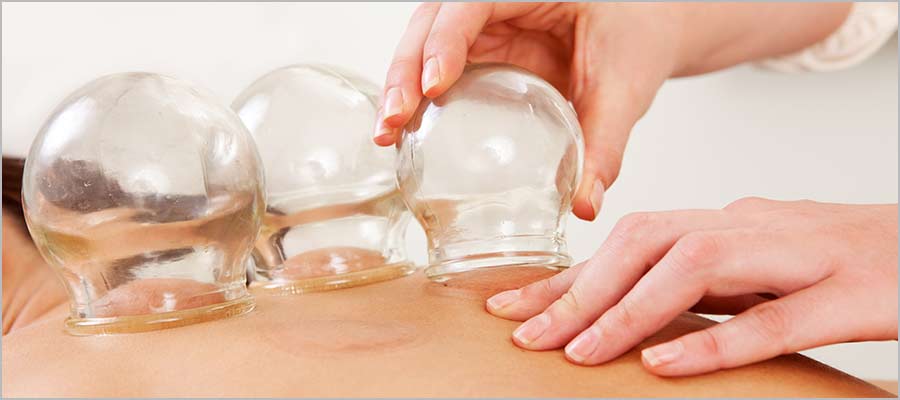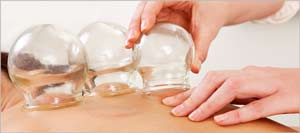 Table of Contents:
What is cupping therapy good for?
How does cupping therapy work?
What does cupping treat?
How long does cupping therapy last?
What is cupping therapy good for?

Cupping therapy is an alternative treatment that involves the application of specialized cups to the skin which create strong suction. The suction boosts blood flow, releases tension in muscles and connective tissues, and induces relaxation. Traditional Chinese medicine has employed cupping therapy for many centuries, due to the vast benefits it offers.

The following are some of the benefits of cupping therapy:
 
Pain relief: Cupping treatment can ease joint and muscle discomfort, especially in the shoulders, neck, and back.

Decreased inflammation: Cupping treatment has been demonstrated to reduce inflammation, which is beneficial for conditions such as asthma and arthritis.

Increased circulation: By increasing blood flow to the targeted region, cupping treatment can aid in the promotion of healing and the reduction of discomfort.

De-stressing: Cupping treatment is a de-stressing procedure that can assist in reducing stress and anxiety.

Increased digestion: By stimulating the digestive tract and encouraging the passage of Qi, or energy, throughout the body, cupping treatment can assist in improving digestion.
 
Overall, cupping therapy is a highly effective treatment that reduces pain and inflammation, stimulates digestion and circulation, as well as promotes healing in the body. If you think cupping therapy can be helpful for your symptoms, contact us today to schedule a consultation.
How does cupping therapy work?

Cupping involves applying special cups to the skin and creating suction with them. The cups are kept in place for some time to establish strong suction, which can be accomplished by using heat or a specific pump.
 
The cups' suction helps to boost blood flow to the treated area, which promotes healing and reduces muscle discomfort. The cups aid in releasing tight muscles and connective tissues, which results in minimized discomfort and increased range of motion.
 
The back, shoulders, and legs are just a few areas of the body that can benefit from a cupping treatment. To simulate a massage, the cups can either be kept on the skin for many minutes or moved around. The procedure can be carried out in a spa, wellness center, or medical clinic.
 
Cupping therapy is a safe and effective procedure. It's recommended to seek treatment from a qualified and knowledgeable specialist. Additionally, it's crucial to remember that cupping therapy shouldn't be used as a replacement for medical care for underlying medical concerns.
What does cupping treat?

Cupping therapy provides many advantages. The treatment is used to alleviate discomfort caused by the following conditions:
 
Headaches and migraines: By easing muscular tension and boosting circulation, cupping treatment can reduce headaches and migraines.

Arthritis and joint discomfort: Cupping treatment is useful for easing joint pain and inflammation, which can be helpful for conditions such as arthritis.

Chronic pain: Pain and tightness in the muscles, particularly in the back, neck, and shoulders, can be relieved by cupping treatment.

Digestive problems: By stimulating the digestive tract, cupping therapy can significantly improve digestion.

Respiratory conditions: As it enhances respiratory function and lowers inflammation, cupping treatment is beneficial for treating conditions such as bronchitis and asthma.
How long does cupping therapy last?

The practitioner's technique and the patient's needs will determine the length of each cupping treatment session. Generally, a cupping treatment session usually lasts from 30 to 60 minutes. The cups are left in place for 5 to 10 minutes in each region being treated throughout the session. The area being treated and the person's symptoms will affect how many cups are used and how long the session lasts.
 
The results of cupping treatment can often be felt right away and last for many days or even weeks. In some cases, the results are more modest, and it may take numerous sessions to see a significant improvement. While many people benefit from cupping therapy for several weeks or months after only one session, others need continuous or frequent treatments to sustain the benefits.
 
Cupping is a safe, conventional treatment that aids in the resolution of persistent muscular stiffness and discomfort more quickly than massage therapy alone. For more information, contact us or schedule an appointment online. We serve patients from Montvale, NJ, Closter, NJ, Westwood NJ, Hillsdale NJ, Woodcliff Lake NJ, Alpine NJ, Englewood NJ, Hackensack NJ, Dumont NJ, and surrounding areas.